The 2021 Subaru Love Promise Community Commitment Award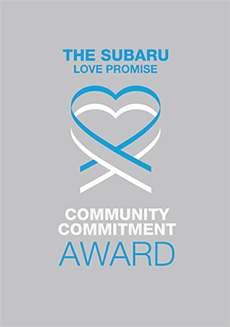 We've been nationally recognized for our dedication to our community and the Subaru Love Promise.
We're honored to receive the 2021 Subaru Love Promise Community Commitment Award. This award nationally recognizes Subaru retailers who are making the world a better place while demonstrating an outstanding commitment to supporting passions and causes in local communities. These efforts are focused in important areas such as the environment, community, health, education, and pets.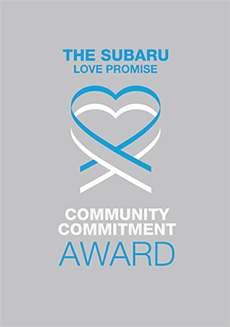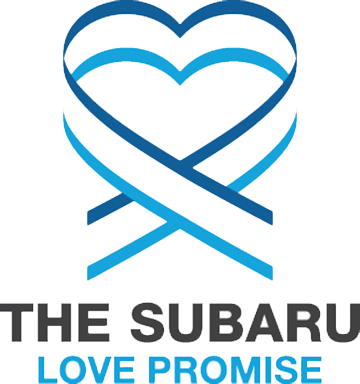 What is the Subaru Love Promise?
Subaru and our retailers believe in making the world a better place and the Subaru Love Promise is our vision of respecting all people. This is our commitment to show love and respect to our customers and to work to make a positive impact in the world.
How is JK SUBARU dedicated locally to the Love Promise?
Our Love Promise can be seen in various partnerships with local charities and non-profits. We're grateful for the opportunity, not only to be a part of our community, but to serve it as well.
Humane Society , Beaumont Main Street
South East Texas Bicycle Club
Love Promise Stories from JK SUBARU
Subaru and JK SUBARU believe in making a positive impact on the communities in which we live and work. We uphold that belief through our Love Promise Community Commitment. Every month, we select inspiring stories from customers and partners from around our area who strive to support our collective commitment and feature them here
SHARE THE LOVE - KAYLA W
JK Subaru had the privilege to raise $5,518.00 for the Nutrition & Services for Seniors one of our two home town charities during the share the love event. We also had the privilege to raise $2,018.00 for the Southeast Texas Food Bank. Nutrition & Services for Seniors is responsible for feeding more than 1,500 seniors per day as well as their pets in Jefferson county and surrounding areas.
---
JK Subaru and a Day of Caring - John R
JK Subaru and 35 local businesses and organizations participated in donating supplies to United Way Day of Caring event. United Way of Beaumont and North Jefferson County has created a "Day of Caring" event and has been going 4 years strong. They have collected supplies such as school supplies, socks, paper plates, blankets, canned goods, animal food, and much more. These supplies will be handed through out our community to those in need. Even during the hard times we have faced the past 2 years, we as a community has stayed strong to help one another. We give a big thank you to Mr. John Rollins the Director of Public Relations and Community Impact for creating such an amazing event. JK Subaru is here to give a lending hand when needed to support out local businesses and community.
---
JK Subaru supports health care workers - Daylyn T
JK Subaru loves to support our health care workers that are administrating the Covid-19 vaccinations in Port Arthur, TX. As a result of the over whelming lines, they are unable to leave for lunch. So JK Subaru has provided them a check to help cover the cost for lunch for the entire staff of workers and volunteers.
---
JK Subaru loves to keep our community warm. - Kerry M
Nutrition & Services for Seniors and JK Subaru were able to collect a great amount of new blankets for the Nutrition & Services for Seniors Meals on Wheels program. The support of Share the Warmth does much more than keep someone warm this winter. Our homebound neighbors can stay warm and safe this winter. South East Texas has more than 1,500 homebound elderly and disabled adults in Jefferson and Hardin counties they will appreciate and love the blankets we get to donate to them.
---
JK Subaru Loves to feed their community. - Kerry M
Nutrition and services for Seniors feed thousands of senior citizens on a weekly basis in South East Texas. JK Subaru had the opportunity to help raise money for this amazing organization. We were fortunate to raise over $9,000 for Nutrition and services for Seniors. We appreciate the amazing opportunity we had working with this organization.
---
JK Subaru Loves Thy Neighbor - Jess D
When Hurricane Laura hit and devastated Southeast Texas and Lake Charles an organization was able to give a helping hand. "Love Thy Neighbor" during the aftermath of Laura put together a big essential drive and was able to gather 2 big truck loads that were going to the devastated areas that was caused by Laura. The trucks included clothes, food, water, diapers, formula, etc. JK Subaru met up with " Love Thy Neighbor" and we were able to participate and donate several cases of water to be given out to those in need.
---
Subaru loves to Care Some Other Place. - Paula O
JK Subaru met with Ms. Paula O'Neal from Some Other Place on 11/4/2020. Ms. Paula has been running this homeless shelter for 40 years. "Some Other Place" in Beaumont, TX is a caring and loving organization dedicated to assisting the local community of homeless with meals, showers, haircuts on certain occasions as well as assisted living programs for those families that qualify in South East Texas. JK Subaru is always happy to lead a helping hand to make sure the homeless community has something to stay dry and warm during the winter seasons. We donated 80 of our water resistant fleece Subaru blankets to "Some Other Place" right as temperatures are beginning to fall.
---
JK Subaru Loves Learning - JK S
Today, it was our privilege to present $1000.00 worth of Science Books to the students at Central Middle School in Nederland. JK Subaru is committed to service projects that help our communities. All of these books from the Subaru Loves Learning Campaign are geared to the STEM Curriculum which is now used in our schools. We hope the staff and students enjoy the books as well as bookmarks and donation labels from our customers. #subaruloveslearning #jksubaru
---
The Delivery That Almost Didn't Happen - Justin M
On June 26, 2019, the Leukemia & Lymphoma Society – Texas Gulf Coast Chapter and JK Subaru had the pleasure of delivering hope, love, and warmth to those battling cancer. We delivered blankets to Baptist Hospital in Beaumont, Texas as part of the Subaru Loves To Care program. These comforting gifts were accompanied by personalized messages of hope written by the customers and staff of JK Subaru.Initially this delivery was not going to be attended by an LLS staff member since it fell outside the 1 hour travel restriction. After several conversations with Daylyn, General Manager at JK Subaru it was clear he was passionate about the mission and motivated me to make an exception to join him in Beaumont. I'm glad I did. It was one of my most rewarding experience at LLS. Gay-Lynn, the Regional Clinical Director of Cancer Services welcomed us like family to her infusion clinic. We were met with all smiles by her staff and an eagerness for us to interact with patients. While some were not up for visits, we did get the fortune of meeting Joann, a regular at the clinic who was happy to have "strangers" she could talk to. Conversation would of likely been enough to satisfy our visit, but her eyes lit up when we presented the blanket. As if to assure affirmation that we did good, she began asking the question to all the staff, "I'm always complaining about being cold, right? You've heard me. Not anymore!" She could not get the blanket open fast enough and wrap it around her. That smile, even during an unpleasant infusion, for a few seconds of forgetting the pain of cancer was well worth the drive for me and one I'll likely make again, even just to check up with Joann. This is a picture of Joann, Daylyn and Gay-Lynn. After delivering blankets inside the clinic, word had spread to the waiting room what was happening. By the time we walked out, there was a line of patients eager to receive the same gifts those in the infusion rooms had. Daylyn put me in a position to feel like a rock star that day handing out blankets and I'm so grateful. LLS is proud to partner with Subaru to continue to spread hope and warmth to those fighting cancer, across the country and right here in Houston and its surrounding communities.Many thanks to everyone at Baptist Hospital and JK Subaru for supporting LLS's mission to cure blood cancers and improve the quality of life of patients and their families.
---
JK Subaru LOVES to CARE!! - Justin M
JK Subaru teamed up with The Leukemia & Lymphoma Society to make a special visit to the Julie and Ben Rogers wellness center this past week, to hand out blankets to our local community members fighting the battle of a life time. Hoping with the receiving of the Subaru LOVES to Care blankets, they are a little more cozy in this hardest of times.
---